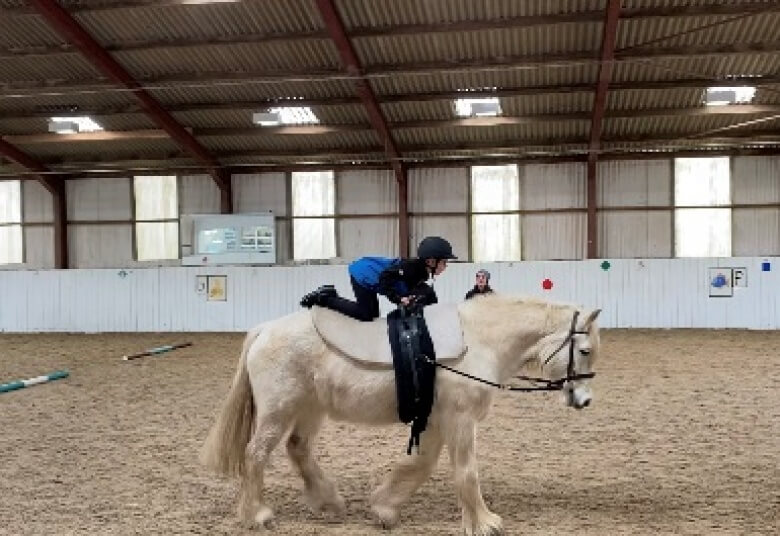 For a number of years we have sponsored the Meirionnyydd Special Riding Group who provide excellent riding opportunities for children and adults from across North Wales. Unfortunately, due to changes in their livery options, they have had to move their horses on to other RDA groups and thus no longer required our sponsorship. Sheridan, their main group horse who last year attended the RDA National Championships, has moved on to Calon RDA. Calon are a new up and coming RDA Vaulting group in mid North Wales and we are delighted to offer our sponsorship to them, supplying HorseHage for their lovely horses and ponies.
Alys Lewis-Jones who, with several other volunteers, started the Calon RDA and holds weekly sessions in the Corwen area at 2 different venues.
Recently they attended the North Wales RDA Vaulting Weekend at Clwyd Special Riding Centre. 14 riders from Calon and Clwyd RDA groups, and Perry RDA in West Mercia came together to take part in this event.
The participants all tried a variety of moves and exercises on the 4 different vaulting horses brought in for the weekend by Eryri Vaulters and Calon RDA. The vaulters succeeded in gaining proficiency tests in vaulting and/or horse care and learnt new skills with the help of 11 volunteers, parents and coaches who helped in the sessions.
Alys said "Vaulting is a great team sport that often relies on the good partnerships between groups to allow vaulters to progress and try out different horses, and makes events such as these possible. Each vaulter can work on their own strengths and form their own individual routine, but as a team activity vaulting really helps form team relationships, boosts confidence and creates skills needed when working together. We all see the physical benefits such as improved co-ordination, core strength and balance but many of our volunteers report that the best thing about vaulting is getting to know each other, and the team aspects that include everyone in the sessions. Time spent doing exercises on the ground and on the 'barrel' helps the vaulters build the skills they need to perform moves on the horse, and this is where many volunteers enjoy being actively involved in the sessions."
We are delighted to be able to sponsor Calon RDA, and it is wonderful to see the opportunities they provide for children, and also how much the children enjoy their sessions. We can't wait to see what else they get up to later in the year.