MolliChaff Condition Complete
Mollichaff Condition Complete is a highly digestible, high fibre, high oil and low starch blend which can be fed as a complete concentrate feed alongside good quality forage.
Contains a balanced blend of alfalfa, dried grass, oat straw, fibre pellets, barley & soya flakes, soya oil, and mint, as well as Yea-sacc® and a prebiotic, plus vitamins, minerals and trace elements.
Soya oil is included to provide essential fatty acids to help improve skin condition and encourage a healthy, glossy coat.
Mollichaff Condition Complete includes Yea-sacc® and a prebiotic to help maintain a healthy digestive system. Mint is also included as a digestive aid and because its taste and aroma are particularly appealing to horses.
Mollichaff Condition Complete is suitable for encouraging weight gain in underweight horses and ponies and can also help maintain weight and condition in competition horses and ponies.
It can be used as the sole concentrate feed as it contains a broad spectrum vitamin and mineral supplement.
Mollichaff Condition Complete is available in 15kg bags.
Find a stockist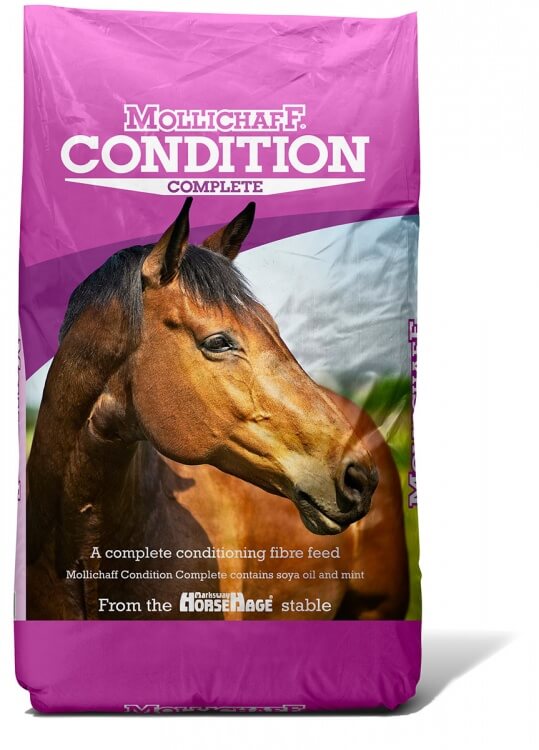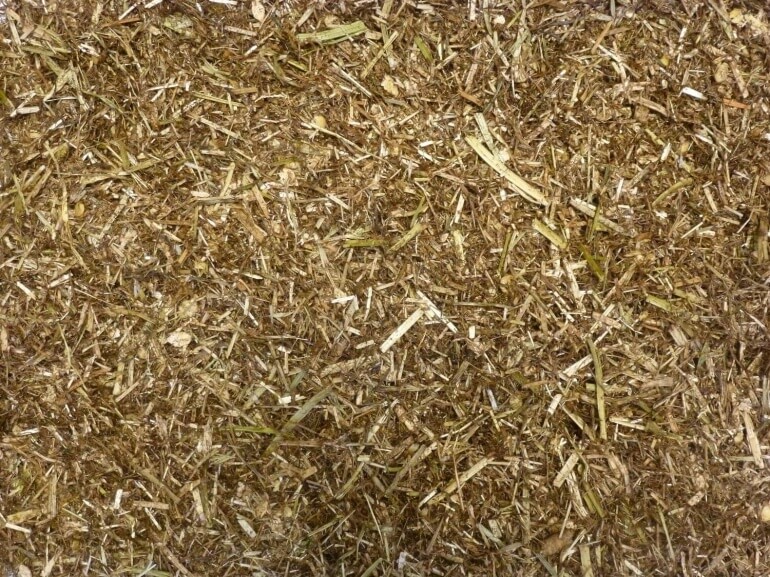 Nutritional Information
Composition
Feeding Information
Nutritional Information
Typical Nutritional Analysis:
Protein 10.5%
Oil 6.0%
Ash 9.1%
Fibre 23.0%
Calcium 1.1%
Sodium 0.3%
Magnesium 0.37%
Energy 10.5 MJ/kg
Starch 8.0%
Composition
Oat straw, Dried grass, Micronised soya flakes, Cane molasses, Barley flakes, Oatfeed pellets, Dried alfalfa, Soya oil, Vitamin & mineral pre-mix, Spearmint (1.5%), Dicalcium phosphate, Salt (sodium chloride), Yea-sacc (0.5g/kg), FOS (fructo-oligosaccharide)(0.5g/kg)
Feeding Information
Intended as a guide only. Good quality forage should also be offered to complete the diet. Remember that every horse is an individual and should be treated accordingly.
Approximate Height
(Hands)

Approximate Weight
(kg)

Quantity (kg) of Condition Complete
per day

11 - 12.2

200

1

12.2 - 13.2

300

1.5

13.2 - 14.2

400

2

14.2 - 15.2

450

2.25

15.2 - 16.2

500

2.5

16.2 - 17.2

600

3

The average weight of a level Stubbs scoop (volume 2.5 litres, bowl diameter 23cm, depth 10cm) of Mollichaff Condition Complete is 0.5kg.
Always feed at least 1.5% of bodyweight in total food per day (including forage), even to overweight horses and ponies.

Always weigh feedstuffs, particularly when feeding overweight, excitable horses and ponies.

Feed dry or damp according to preference.

As with all new feedstuffs, introduce gradually and increase quantities as required.

Clean, fresh water should be available at all times.
Frequently Asked Questions
Q: Do I have to feed a balancer/mix with Mollichaff Condition?
No, it is a complete feed on its own. If you are feeding Mollichaff Condition at the recommended levels as per the feeding guide then it is providing your horse with all of its required daily vitamins and minerals and you do not need to feed a balancer or mix.
Q: What are prebiotics and Yea-sacc?
Prebiotics help to maintain a healthy digestive environment and promote the health of micro-orgaisms which are present in the horse's digestive tract. These micro-organisms are vital for efficient digestion. Yea-sacc is a natural highly concentrated yeast culture which stimulates the micro-organisms in the hindgut to increase fibre digestion and energy release. It also helps to stabilise the pH in the hindgut which allows the healthy gut bacteria to grow.