HorseHage Alfalfa
HorseHage Alfalfa is produced in the same way as the other HorseHage varieties, but it is made from alfalfa which is a legume rather than a grass.
Alfalfa has higher levels of protein, digestible fibre, calcium and vitamins than grass.
The protein within Alfalfa has the optimum balance of amino acids and particularly lysine, which is especially important for growth, in pregnancy and for milk production.
The high nutrient levels also make it suitable for horses in hard work, poor doers, veterans and show horses.
Advice on feeding HorseHage Alfalfa is available by contacting our office on 01302 700220 or by telephoning the HorseHage Helpline 01803 527274.
Alfalfa
Alfalfa is a member of the pea-family and is also known as Lucerne. It is a deep-rooting plant, with nitrogen-fixing nodules on its roots, so when established needs no nitrogen fertilisers to be applied to the crop.
As it is a perennial plant, once it is established in a field it can be cropped for 3-4 years and has the advantage of being drought resistant.
Find a stockist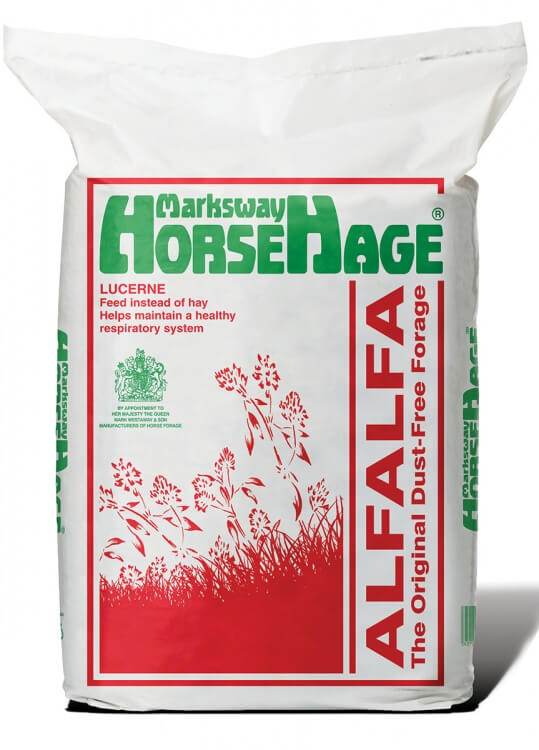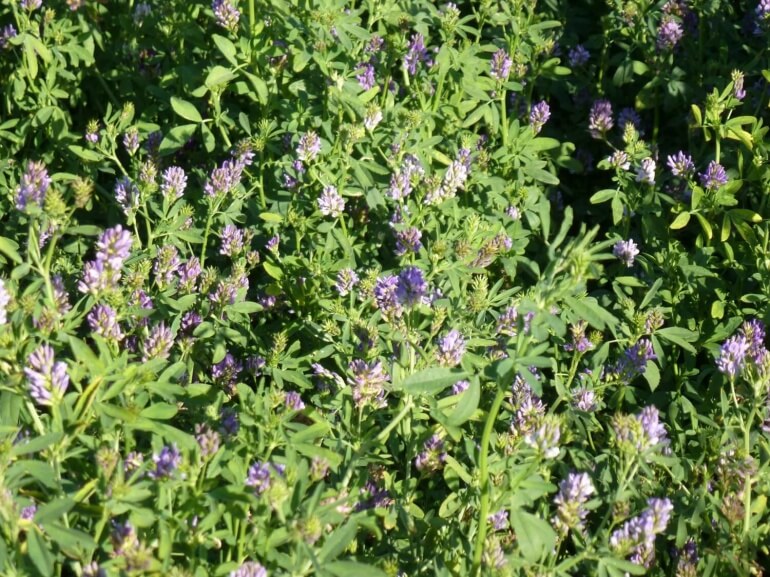 Nutritional Information
Composition
Nutritional Information
Typical Nutritional Analysis (on a dry matter basis):
Protein 12 - 15%
MAD Fibre* 38 - 42 %
Calcium 0.8 – 1.0%
Energy 8.5 - 11.0 MJ/kg
Sugar <5%
Starch 1 - 2%
Dry Matter 55%
* MAD Fibre – Modified Acid Detergent Fibre (This is a measure of the digestible part of the total fibre in a feed).
Composition
Alfalfa (also known as Lucerne)
Frequently Asked Questions
Q: What level of activity will HorseHage Alfalfa support?
Due to its high nutrient value HorseHage Alfalfa is ideal for horses in hard work such as racehorses and high-level competition horses. It is also excellent for broodmares, breeding stock and youngstock to aid growth, pregnancy and milk production.
Q: Is HorseHage Alfalfa suitable for horses with Cushings, or prone to laminitis?
Although HorseHage Alfalfa is low in sugar, no, this isn't suitable for horses with laminitis or cushings due to the high level of protein and energy it provides. Please see HorseHage High Fibre or Timothy for a suitable forage option.
Q: Can I feed HorseHage Alfalfa to goats?
Yes, HorseHage Alfalfa can be fed to goats and they very much enjoy it!
Q: Will my horse like HorseHage Alfalfa?
Alfalfa does have a different taste to grass forage but the majority of horses really enjoy tucking in to it!