ReadiGrass
ReadiGrass is a premium quality forage which is ideal for horses and ponies without access to grazing. The original dried grass, it is grown, harvested and dried with great care on our farm in Yorkshire - absolutely nothing is added. Water is removed gently from the grass in our low temperature drying process, retaining the natural flavours, wonderful smell, colour and most importantly the high nutrient value of fresh grass.
This gives a feed that is more nutritious than hay yet still contains the digestible fibre essential for every horse's health. For horses with limited access to fresh pasture it's as close to fresh grass as you can get without being in a field!
What's good about ReadiGrass?
• Rich in digestible fibre for healthy gut function
• So good that oil or molasses are not needed to make it palatable
• Natural source of nutrients including Calcium and Phosphorus at the correct ratio
• Dust extracted for a healthy respiratory tract
• Spore risk eliminated by drying process
• Reduces bolting of feed and encourages chewing, for correct teeth wear
ReadiGrass is available in 15kg bales.
Please also see Friendly ReadiGrass for small animals.
Readigrass is available nationwide from all good feedstores.
To find a stockist close to you
Find a stockist
Alternatively, single bales may be ordered from Friendship Estates directly. At this time, delivery of large bales is only available to mainland UK.
The Friendly 1kg bags are also available to UK islands (a delivery surcharge may apply).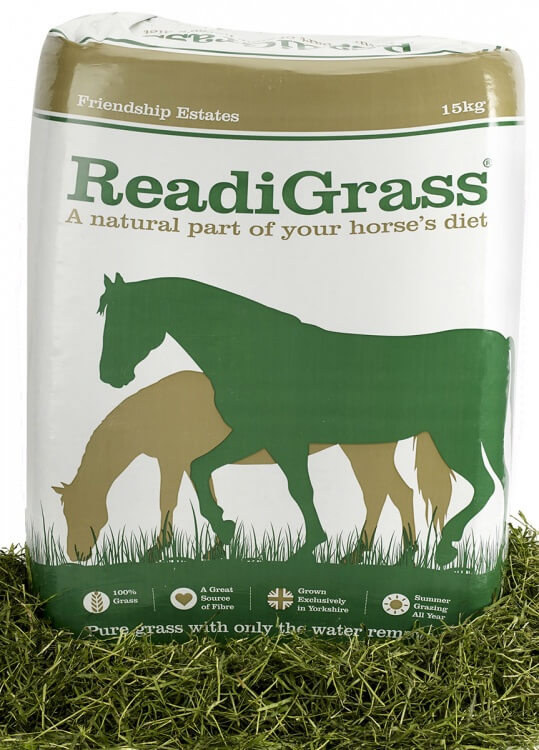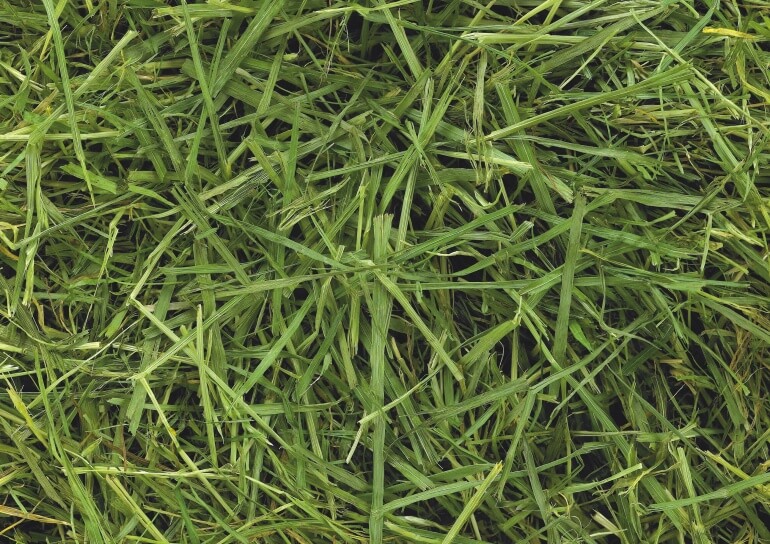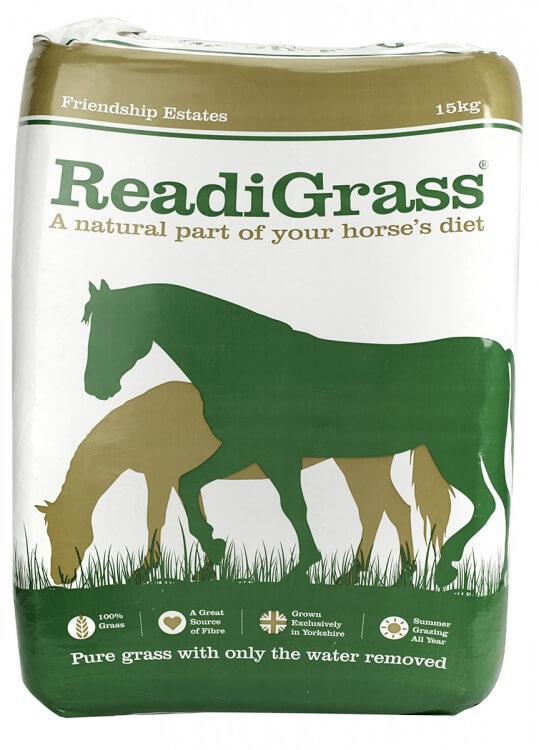 General Information
Nutritional Information
Composition
Feeding Information
General Information
High feed value
Rich in digestible fibre for healthy gut function
Natural source of nutrients including calcium and phosphorus in the correct ratio
Dust extracted for a healthy respiratory tract
The drying process prevents fungal spores and other contaminants found in hay
Very versatile - can be used as a treat, a chaff-type bucket feed, or as a partial/complete hay replacer
No molasses, no added oil or any other additives
Highly palatable to even fussy eaters
Suitable for all horses and ponies, other than those prone to laminitis or required to lose weight
Naturally low in starch
Reduces bolting of feed and encourages chewing to sustain correct wear of teeth
Reduces boredom – Edinburgh University research shows that short chop forage takes longer to eat than long chop forage
Nutritional Information
Typical Analysis:
Protein 15%
Crude fibre 21%
Oil 3%
Calcium 0.55%
Phosphorus 0.27%
Total sugar 10-12%
Starch < 0.1%
Equine Digestible Energy 10MJ/kg
Composition
Feeding Information
ReadiGrass is a versatile product which can be fed in many situations:
• Suitable for a variety of horses from those at rest, to those in hard work
• For horses with limited access to fresh pasture, it's as close to fresh grass as you can get without being in a field
• Can be used as a partial hay replacer, including for those horses with poor dentition that are struggling to chew longer fibres
• ReadiGrass is a palatable, natural alternative to chaff when given in a bucket feed, enjoyed by even the fussiest eaters
• A great source of energy for horses in medium / hard work when fed as part of a balanced diet
• A handful can be added to feed as a treat
Ensure fresh water is always available.
Most horses enjoy ReadGrass dry, however it may also be dampened slightly.
Reviews
| Name | Posted on | Comment | Rating |
| --- | --- | --- | --- |
| Heather Newton | 03/11/2022 | My 10 year old welsh D has always had problems with his droppings when stabled for any longer than 12 hours Become loose Tried all sorts of different regimes to help him with little effect Then tried Readigrass Well what a life changer, he now has just a heaped scoop, dampened down in the morning and evening, when in his stable and his droppings are perfect Thank you so much | |
| Anne-Marie | 15/01/2020 | I can't recommend readigrass enough. My miniture Shetland foal became very poorly last year and ended up having colic surgery. Due to his young age and the surgery we had to be very careful when feeding. Readigrass has been great for this. He loves it. It's really helped us introduce food following his surgery. Thank you for this feed | |
| Louisa | 18/05/2019 | I can't rate Readigrass highly enough. It is excellent for keeping weight on my 27 year old warmblood. The quality is so much better than the cheaper brands (which he won't eat) and it is worth every penny. | |
| ann | 03/04/2019 | After visiting a friend that uses Readigrass she gave me a small bag to try as my old boy suffers i was concerned about him having it but my vet advised me because i have no grass in the field where he is along with my mare it would be fine to feed it he is a different pony 30 years old in may his coat is more shiney and he looks great now so big thanks for a great product Ann | |
Frequently Asked Questions
There are no questions yet. Ask a question now.