Mollichaff Veteran
Mollichaff Veteran is a high fibre forage mix designed to complement the forage ration where necessary.
Veteran contains a balanced blend of dried grass, dried alfalfa and oat straw and is topped with a dressing combining linseed and soil oil with a very light dressing of molasses, plus added vitamins and minerals, plant-based antioxidants, mint, nettle, salt and added biotin.
The high palatability of Veteran makes it ideal for horses and ponies that are unable to consume long forage and require a partial forage replacer. This also makes it extremely appealing to even the fussiest of feeders that require an additional forage source. Veteran is also suitable for youngstock.
Find a stockist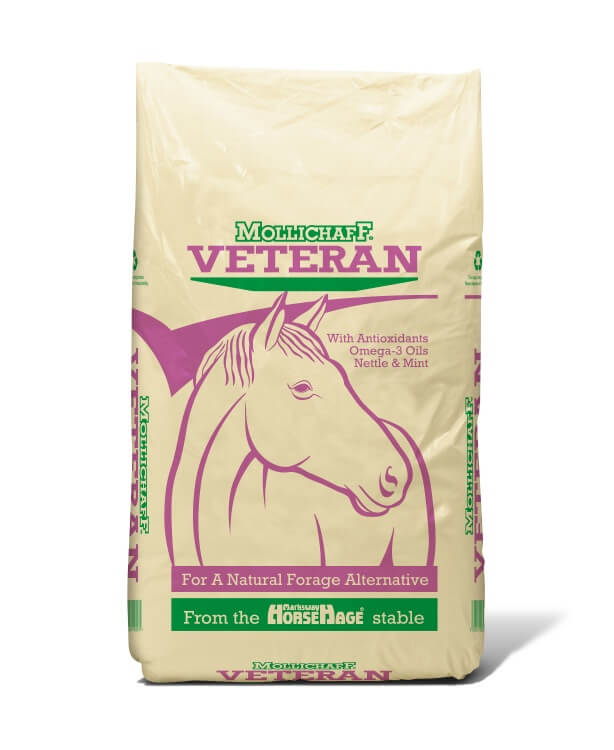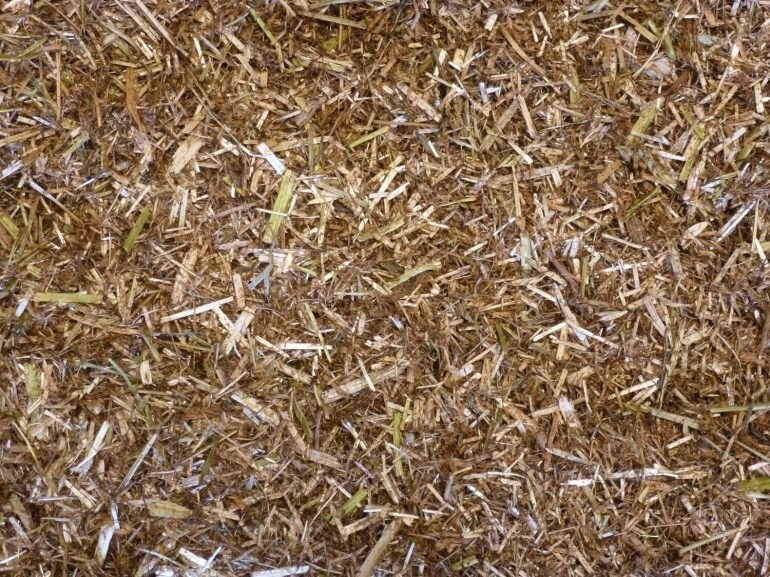 General Information
Nutritional Information
Composition
General Information
Mollichaff Veteran contains linseed oil which is a rich source of essential fatty acids including Omega 3.
Antioxidants from a plant-based source are included to help combat free radicals.
Nettles are naturally high in vitamins and minerals and mint is commonly used as a digestive aid in horses and they find the aroma and taste of mint to be particularly appealing.
Mollichaff Veteran contains added limestone to provide additional calcium for strong bones. Salt provides two important electrolytes – sodium and chloride. Also contains added biotin for healthy hooves.
For guidance on how much to feed, please contact us for a ration suggestion based upon your horse or pony's individual needs.
Mollichaff Veteran contains only natural ingredients and is available in 12.5kg bags.
Nutritional Information
Typical Nutritional Analysis:
Protein 8.0%
Oil 4.5%
Ash 10.0%
Fibre 23%
Calcium 1.3%
Sodium 0.25%
Energy 9.0 MJ/kg
Starch 1.5%
Composition
Oat straw, Dried grass, Cane molasses, Dried alfalfa, Spearmint (2.5%), Soya oil, Linseed oil, Vitamin & mineral premix, Limestone flour, Dried nettle (0.5%), Salt (sodium chloride)
Frequently Asked Questions
Q: How much Mollichaff Veteran should I feed?
Mollichaff Veteran should be fed as part of a balanced diet. It can be used to bulk up your bucket feeds and provide the fibre a horse needs. Depending on the size, weight, condition and workload of your horse, we would recommend feeding ½ - 2 scoops per bucket feed. If you would like to discuss this further please contact us.
Q: My horse has dental problems, will Mollichaff Veteran be suitable?
Yes, Mollichaff Veteran is a soft chaff so is easy to chew for a horse with dental problems. It can also be used as a partial hay replacer if the horse is struggling to chew long stemmed forage.
Q: I have a young horse, can I feed them Veteran?
Yes, despite it's name Mollichaff Veteran is also a great product for young horses as it is higher in protein and energy than some other chaffs. It also has added linseed and soya oil, nettle which are naturally rich in vitamins and minerals, limestone and biotin which will all help to give young horses the best start.