MolliChaff Donkey
Mollichaff Donkey is a highly palatable complete feed formulated particularly for donkeys.
It contains a balanced blend of dried grass, fibre pellets, oat straw, and soya oil with chamomile, mint and lemon balm, and also a broad spectrum vitamin and mineral supplement, which includes limestone and magnesium.
Magnesium is often deficient in UK soils. The limestone provides additional calcium for strong bones and healthy growth.
Mollichaff Donkey is low in sugar, starch and energy and carries the HoofKind logo to denote that it is suitable for donkeys, mules, horses and ponies that are prone to laminitis.
When Mollichaff Donkey is fed at the recommended levels, it needs no further supplementation other than good quality forage; or it can be used as a total forage replacer. (See Feeding Guide)
Mollichaff Donkey is available in 18kg bags.
Find a stockist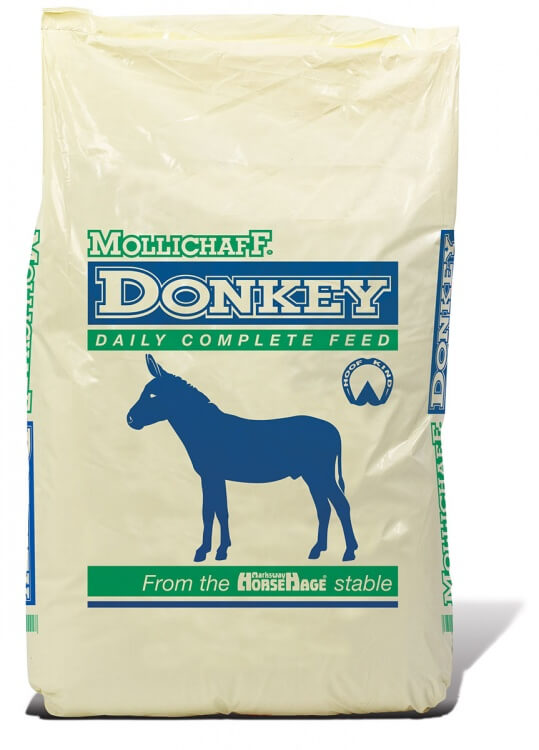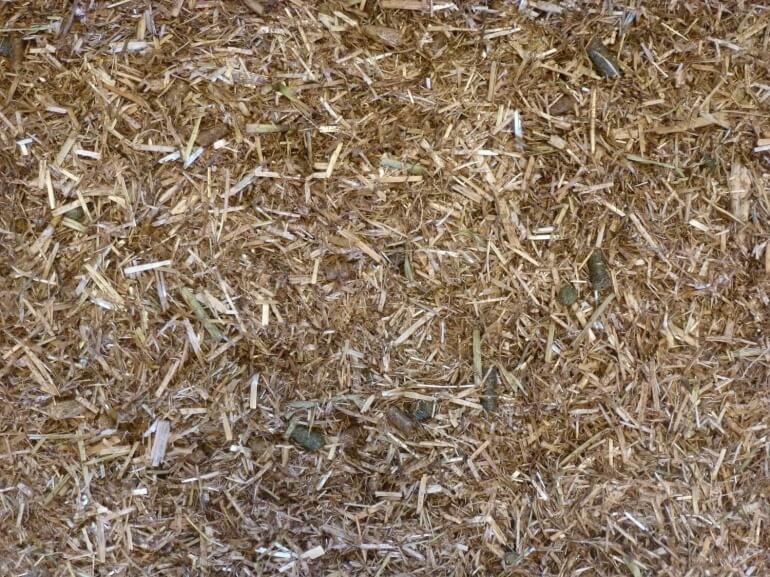 Nutritional Information
Composition
Feeding Information
Nutritional Information
Typical Nutritional Analysis:
Protein 6.0%
Oil 3.5%
Ash 9.0%
Fibre 28%
Calcium 0.92%
Sodium 0.471%
Magnesium 0.3%
Energy 7.3 MJ/kg
Starch 2.5%
Composition
Oat straw, Dried grass, Oatfeed pellets, Partially-treated straw pellets, Cane molasses, Soya oil, Vitamin & mineral premix, Spearmint, Salt (sodium chloride), Limestone flour, Dicalcium phosphate, Chamomile flowers, Lemon Balm
Feeding Information
Approximate Size

Approximate Weight
(kg)

Quantity (kg) per day bucket fed with additional forage

Quantity (kg) per day as a total forage replacer

Mini

100 - 150

1/4

2

Standard UK

150 - 200

1/2

3

Large Breed

200 - 300

1

4

Large Mules

300+

1 - 2

4 - 6

The average weight of a level Stubbs scoop (volume 2.6 litres, bowl diameter 23cm, depth 10cm) of Mollichaff Donkey is 0.5kg.
Always feed at least 1.5% of bodyweight in total food per day (including forage), even to overweight donkeys.
Always weigh feedstuffs, particularly when feeding to those prone to laminitis.
Feed dry or damp according to preference.
As with all new feedstuffs, introduce gradually and increase quantities as required.
Clean, fresh water should be available at all times.


Frequently Asked Questions
Q: How is Mollichaff Donkey more suitable than using horse feed?
Donkeys have a lower nutrient requirement than horses as they have naturally evolved to eat the roughest forage in very dry places. Our green British pastures, and even the most basic horse feeds are often too rich for donkeys, which is why so many of them struggle with their weight. We have designed Mollichaff Donkey to be a super-low-calorie option, with vitamins and minerals specially formulated for donkeys.
Q: Can I feed Mollichaff Donkey to a horse or pony?
Yes, Mollichaff Donkey can also fed to horses and ponies. It is particularly suitable to smaller native breeds such as Shetlands, Falabellas and Exmoors, who are often very good doers, as well as those prone to laminitis. Most horse feeds can be too high in calories and other nutrients for these ponies, whereas Mollichaff Donkey which has a lower calorie content is ideal.
Q: Do I have to feed a balancer/mix with Mollichaff Donkey?
No, it is a complete feed on its own. If you are feeding Mollichaff Donkey at the recommended levels as per the feeding guide then it is providing your horse with all of its required daily vitamins and minerals and you do not need to feed a balancer or mix.