HorseHage Ryegrass
Ryegrass HorseHage is the original HorseHage having provided consistent reliability and quality for over 40 years. It is made from the same selection of ryegrasses as High Fibre HorseHage, but is cut at a slightly earlier stage of growth to provide optimum protein and energy levels.
It is suitable for horses who lead active lives - those in work, who need a little more from their forage. Also great for hunters, heavy horses, youngstock and breeding stock.
It can also be fed to help horses gain weight and improve condition.
HorseHage Ryegrass is known by many of our customers as 'HorseHage Green' because of its bag colour.
Appearance and aroma
HorseHage Ryegrass is usually pale gold in colour, but some batches may retain a green colour at the end of fermentation which will then mature gradually to gold. It has a finer texture than High Fibre HorseHage and a distinct, sweet aroma.
Find a stockist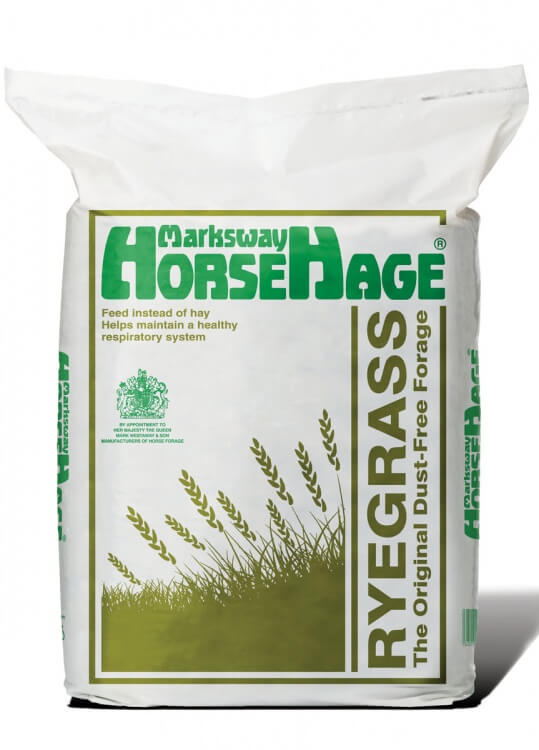 Nutritional Information
Composition
Nutritional Information
Typical Nutritional Analysis (on a dry matter basis):
Protein 9 - 12%
MAD Fibre* 32 - 36 %
Calcium 0.4 – 0.6%
Energy 9 – 11.5MJ/kg
Sugar <5%
Starch 1 - 2%
Dry Matter - 55%
*MAD Fibre – Modified Acid Detergent Fibre (This is a measure of the digestible part of the total fibre in a feed)
Composition
Ingredients
Ryegrass grass mix
Frequently Asked Questions
Q: What level of activity will HorseHage Ryegrass support?
HorseHage Ryegrass is generally suited to horses in medium to hard work, and those requiring more from their forage, as well as breeding stock and youngstock.
Q: Is HorseHage Ryegrass suitable for horses with Cushings, or prone to laminitis?
Although HorseHage Ryegrass is low in sugar, in most cases no, this is not suitable for horses and ponies with laminitis or cushings due to the higher level of protein and energy it provides. Generally, horses with laminitis or cushings require a calorie-controlled diet high in fibre and lower in protein and energy. Please see HorseHage High Fibre or Timothy for a suitable forage option.
Q: What makes HorseHage Ryegrass different to HorseHage High Fibre, if they are both made from ryegrass?
Both HorseHage Ryegrass and HorseHage high fibre are made from the ryegrass variety of grass. HorseHage Ryegrass is cut at an earlier growth stage which gives it the higher protein and energy levels as the grass is younger and leafier. HorseHage High Fibre is cut at a later growth stage when the grass is more mature and therefore has lower energy and protein levels.